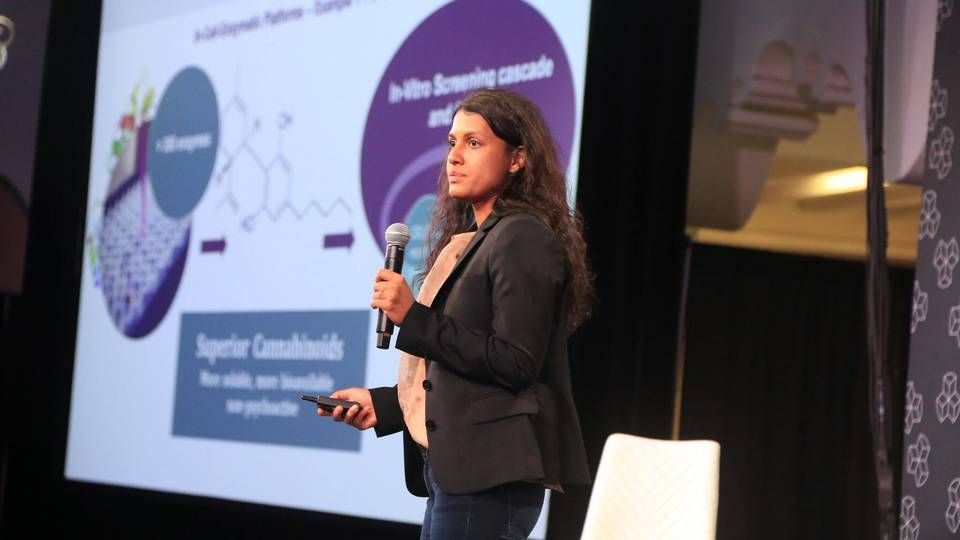 Morphine and codeine from the opium poppy are among the most significant current-day pharmaceutical drugs. Cocaine from coca leaves is still used as a local anesthetic, and certain cannabis agents are part of a medicinal trial run in Denmark.
The medicinal potential of recreational drugs has recently reached the global agenda for decision-makers and an increasing amount of biotech firms alike, as much research indicates that the psychedelic drugs offer many therapeutic possibilities.
One of the companies trying to develop artificial psychedelic drugs for pharmaceutical uses is Danish biotech startup Octarine Bio, which is based on research from the Technical University of Denmark and Copenhagen University, and which has been supported by The Novo Nordisk Bioinnovation Institute and finances from the Danish Growth Fund and Innovation Fund Denmark.
The person in charge is Nethaji Gallage, who founded Octarine Bio along with CSO and postdoc at DTU Biosustain Nick Milne in 2018 with the vision to bring synthetic biology from lab research to commercialization, Gallage tells MedWatch.
"There was a clear opportunity to exploit synthetic biology the create new treatments within a host of disease areas," states Gallage, whose chairman is the experienced biotech profile and former Novo Seeds partner Stephan Christgau.
Despite it being a very young company in its early stages, it's already attracted attention from major global companies
Along with three others, he raised half a billion kroner (USD 80m) to set up the Nordic life science fund Eir Ventures, and Christgau sees great potential in Octarine Bio.
"The founding team has a strong scientific insight at its disposal, and despite it being a very young company in its early stages, it's already attracted attention from major global companies as well as leading experts in cannabinoids and psychedelics," Christgau tells MedWatch.
"I really think Octarine has already gone far in establishing itself in this new, very interesting field, where the company has proven itself competent in developing and producing significant CNS-effective therapeutic molecules," Christgau says.
Deals with obvious need
In recent years, several components of the cannabis plant, the cannabinoids, have garnered significant attention. The agents THC and CBD have drawn particular attention, as several studies have documented significant effects in treatments for chronic pain, epilepsy and muscle spasticity.
However, these agents aren't absorbed well into the body, and the plant only has small accessible doses.
Octarine Bio solves this problem by modifying yeast cells and enabling them to produce new variants of these agents that are better absorbed, which the firm states results in a better pharmaceutical drug.
Synthetic biology, which many believe will soon have a major break-through, essentially revolves around the idea that you can use advanced biotechnology to construct or assemble cells or micro-organisms that are designed to produce various components.
This could be bacteria that might aid the clean-up after an oil spill, vaccines against diseases or biological factories producing medicine against neurological and psychological ailments, including chronic pain and depression.
"Our technology combines synthetic biology, yeast fermentation and enzymatic derivation in the development of IP-protected [intellectual property, -ed.] drug candidates that have been validated in pre-clinical trials," Gallage states.
In this way, Octarine Bio deals with a class of molecules that is currently inhibited by limited access to reliable and cost-efficient supply.
"It's evident that many neurological and psychological conditions are poorly treated with the drugs that exist on the market, which leaves doctors, patients and their families desperate for alternatives, which are sometimes – often – illegal," Gallage explains.
Octarine Bio doesn't just focus on substances that already exist within the cannabis plant, but intends to produce new cannabinoids, which are much too difficult to create using chemical synthesis. The firm has already identified more than one thousand new substances with commercial potential.
"Cannabinoids and psychedelics could be break-through therapies for many illnesses, but in order to realize the full potential of the molecules, the first problems to be fixed are their production and their undesired qualities," says Gallage while establishing this is exactly what Octarine Bio's biotechnological platform does.
"And we're doing it in a scalable, sustainable and cost-efficient way," Gallage states. Along with her colleagues, Gallage recently finished the so-called Bio Accelerator Academy program at the Bioinnovation institute, which is a life science incubator program for business development.
Here, Gallage and company gained expert knowledge about and training in various aspects of running a biotechnological business. They made a business model and learned more about what's in demand on the market.
"Bioinnovation institute has let us access a major network within biotech and the pharmaceutical industry," says Gallage, who in January succeeded in roping in Bruce Linton, who is the founder and former CEO of the world's largest cannabis company, Canopy Growth.
Even French fund Oscare Capital, which invests in companies that are developing medicinal and pharmaceutical products on the basis of cannabinoids placed money in the Danish biotech firm on the same occasion.
We stand out from everyone else with out ability to biosynthesize not just natural molecules, but also better and tailored cannabinoids and psychedelics that are not present in nature and that are difficult to produce using chemical synthesis.
In the first half-year of 2020, the firm has added DKK 3m (USD 476,000) to its bank accounts in the form of convertible loans from business angels and the Danish Growth Fund along with a grant from Innovation Fund Denmark.
Added to that are DKK 2-6m, which Octarine expects to gain from a fundraising round in the second half-year of 2020.
"In the start of the year, we held a pre-seed round with international investors and the Growth Fond, and we're currently working on raising a seed-round, which we're expecting to close during the next couple of months," says Gallage while stating the company has a deal with a pharma partner in the works.
"We're planning to enter into a deal with a pharma partner before long, who we'll be working with for one of our psychedelic production platforms, where the aim is to have clinical trials within the foreseeable future," says Gallage.
Billion-dollar potential increased by first-mover advantage
The market for pharmaceutical drugs based on cannabinoids and psychedelic drugs today makes up around USD 2bn, but is expected to rise to more than 50bn per year in 2029 already – globally, this will surely be even more, and an increasing number of biotech companies are, as already mentioned, right now testing the pharmaceutical potential of the psychedelic drugs.
For example, the British firm Compass Pathways with former Lundbeck medical advisor Hans Eriksson in the role of Chief Medical Officer has made major progress in their attempts to develop the active substance in psychedelic mushrooms, psilocybin, in a treatment for depression.
The Danish company Lophora, which is also working on a potential drug for a fast-acting treatment against depression, is having a good run, and it recently received DKK 10m (USD 1.6m), when it was accepted into Bioinnovation Institute's support program Creation House, which encompasses companies with an early business plan and proof of concept.
Gallage is well aware that the competition is tangible. Other companies, like well-established US-based synthetic biology companies Ginkgo Bioworks and Amyris, are far ahead in regards to moving genes from the cannabis plant and inserting them into yeast to produce the cannabis agents artificially.
"But we stand out from everyone else with our ability to biosynthesize not just natural molecules, but also better and tailored cannabinoids and psychedelics that are not present in nature and that are difficult to produce using chemical synthesis," says Gallage.
"In this area, and with our IP-protected products, we have a first-mover advantage in Europe within the area of cannabinoids and a first-mover advantage globally within the area of psychedelics.
Would you like to receive the latest news from MedWatch directly in your e-mail inbox? Sign up for our free English newsletter below.
Can I borrow the centrifuge? New biotech community offers shared labs to start-ups
New life science fund eyes digital health gold: "We see several interesting opportunities"